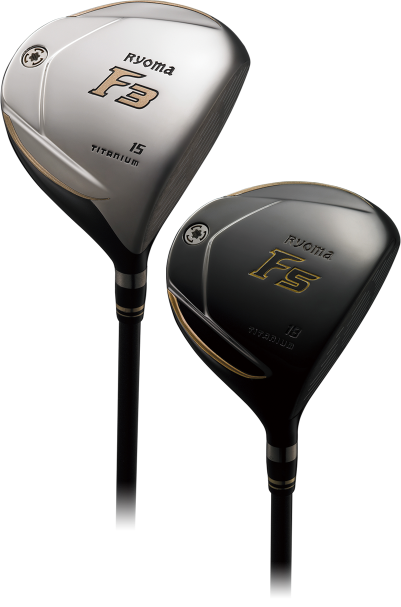 Fairway Wood
Conforming to R&A and USGA rules on SLE
MSRP: Discretionary price
Delivers exceptional distance and forgiveness
#5 provides a long distance comparable to a conventional #3
#3 is as easy to hit as a conventional #5
The RYOMA F fairway wood is equipped with a head body made entirely of a high-strength, ultra-thin titanium alloy, which provides an unprecedented surplus weight of 125 g that no conventional stainless or maraging-steel fairway head can match. RYOMA's proprietary DSI technology places an anti-roll power booster weighing 65 g inside the back of the head and a low-spin unit weighing 60 g immediately behind the face, and a power-spring body formed between them makes it possible to hit a ball with an initial velocity of up to 2.0 m/s higher than conventionally designed fairways. This high-performance fairway adds up to 15 yards of ball distance and delivers exceptional forgiveness.

TourAD RF2 |TourAD RF2 standard shaft


All-round shaft for a consistently
high smash factorThis shaft is especially designed for the RYOMA F fairway. It allows the player to feel the club head move during a swing and provides greater maneuverability and stability. It is an all-round shaft that ensures consistent performance regardless of a golfer's swing type and brings out the best of the high-performance club head when aiming at the green.
BEYOND POWER F


Whip-like effect for
exceptional distanceThe BEYOND POWER F shaft provides infinite flex that benefits golfers of any swing type. During a swing, the whip-like effect travels progressively from the grip to the tip, giving an accelerated speed to the head while eliminating awkwardness normally associated with swinging a longer shaft. This shaft enables golfers to hit longer-distance shots beyond their potential.