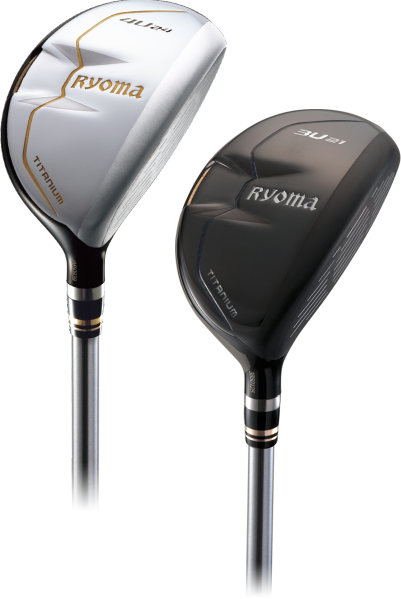 Hybrid/ Utility
Conforming to R&A and USGA rules on SLE
MSRP: Discretionary price
Iron-replacement hybrid
that delivers a longer distance
than a long iron,
and is as easy to hit as a middle iron
The RYOMA U is a high-performance hybrid that makes it easier to hit a pin shot even from a challenging lie or a downslope. This hybrid incorporates RYOMA's proprietary DSI technology, which also finds its way into our drivers and fairways. The patented club head structure that combines a cup face made of high-strength titanium and an ultra-thin crown provides a large sweet area. Compared with conventional hybrids, the RYOMA U imparts up to 2.1 m/s more initial velocity to a ball at impact and gives it backspin of up to 700 rpm less; it also reduces sidespin by up to 30% to lower the severity of hooks and slices by half on off-center hits. The RYOMA U enables a shot that carries 10 to 15 yards longer than conventional hybrids with the same loft. Golfers of every skill level can improve their scores on the course by taking advantage of the powerful trajectory produced by this hybrid, which is longer and straighter.

TourAD RYOMA U|standard shaft


Hit with a descending blowThis shaft has a moderate bending profile toward the grip end, which makes it easier for a player to hit a ball with a smooth, descending blow with confidence. It is an all-round shaft that is forgiving on off-center shots and works for any swing type.
BEYOND POWER U


Whip-like effect for
greater distanceThe BEYOND POWER U shaft provides infinite flex that benefits golfers of any swing type. During a swing, the whip-like effect travels progressively from the grip to the tip, giving an accelerated speed to the head while eliminating awkwardness associated with swinging a longer shaft. This shaft enables golfers to hit longer-distance shots beyond their potential.